See The Trilogy of the Dentist


Since its release, a controversial book, troublesome, daring and single in its kind. With a picturesque touch, which makes the reading easy to assimilate and at the same time amusing, it talks about serious subjects, of usual interests, never mentioned before and taken to the knowledge of the laic public. A title that shows the reality, what happens behind the chair of many dentists' offices and we would never know in any other way. A serious title, that has a serious subject, but in a light, fun and humorous way, making it be classified as something unique on current literature, at the same time that it drums into reader's head, in a subtle way, a mixture of doubt connected to the wish of newer and better clarification on their life inside a dentist's office.
The audacious title has caused controversy in the whole country since the beginning. Having the first edition sold out in a few months, the trade review applauded the initiative and recognized in the title a work of public health, meanwhile the class associations were mobilized in the whole country against the book and its writer. Dentists from all country criticized the title through pertinent communication vehicles, even coming to a manifestation from the Federal Council of Dentistry. But the author's answer to the criticisms was incisive and steady. Using his right to reply, the author once again exposed to the public the reasons it took him to write the book and showed in a objective way that those who don't agree with the title's publicity and expression are fairly those who identified themselves through its lines, in other words, the bad professionals, those the book calls attention to and condemns.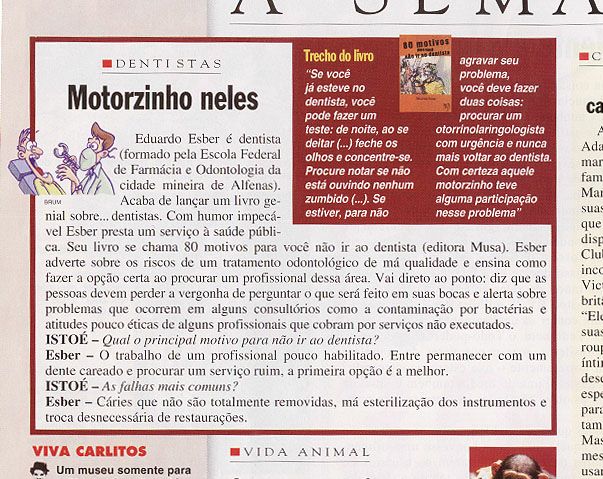 . .......................................................................................................................................Revista Isto É.

The book can be found exclusively at
AgBook